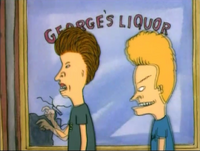 George's Liquor is one of the locations in Highland.
A number of characters (usually in the background) can be seen entering/exiting the store, or one quite like it. It holds a great interest to Beavis and Butt-head.
The name could be a pun on the character's name "George Liquor" from the 1990's Nickelodeon show Ren and Stimpy.
---
This article is considered to be a stub Pages. You can help the Beavis and Butt-head Wiki by expanding it.
---
Ad blocker interference detected!
Wikia is a free-to-use site that makes money from advertising. We have a modified experience for viewers using ad blockers

Wikia is not accessible if you've made further modifications. Remove the custom ad blocker rule(s) and the page will load as expected.