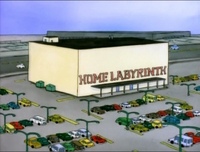 Home Labyrinth is one of the locations in Highland. It is a hardware store, similar to Home Depot or Lowes. It appears in the episode Pool Toys when Tom Anderson visits here looking for Spanish tiles to complete his pool. Tom Anderson has difficulty locating these tiles and ends up being the last person in the store, even when its during nighttime still looking for the tiles.
Appearances
Edit
Ad blocker interference detected!
Wikia is a free-to-use site that makes money from advertising. We have a modified experience for viewers using ad blockers

Wikia is not accessible if you've made further modifications. Remove the custom ad blocker rule(s) and the page will load as expected.