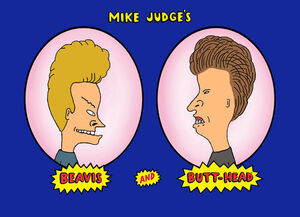 Beavis and Butt-head, like all television series, has an opening sequence. It starts out on a black screen, and we hear Butt-head laughing. Beavis follows suit, then the screen fades into a side shot of both characters. facing one another. Beavis is on the left, and Butt-head is on the right. The heads of each character are enclosed in ovals. All of this is on a blue background. Rock music begins playing in the background, and the word "Beavis" appears under said character. Then, the word "and" appears between them, while at the same time the word "Butt-head" forms under the aforementioned character.
Variations
Edit
From 1993-1997, the then-current MTV logo is shown above the word "and" before the latter even appears. Later, the logo and title disappear, replaced by "Created by Mike Judge". For the 2011 revival, Judge's name replaces the MTV logo. In both versions, Beavis and Butt-head laugh throughout.
Ad blocker interference detected!
Wikia is a free-to-use site that makes money from advertising. We have a modified experience for viewers using ad blockers

Wikia is not accessible if you've made further modifications. Remove the custom ad blocker rule(s) and the page will load as expected.