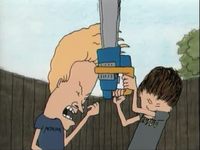 For tonight's exciting return of Beavis and Butt-Head, the Wikia Content Team has decided to host it's first ever live chat on here. We will be chatting in the chat room on here (http://beavisandbutthead.wikia.com/wiki/Special:Chat) from 9:45 EST (6pm PST) time - 10:30 EST (7:30 PST). We will also stick around for the second showing from 11-11:30 EST (8-8:30 EST). Please join us if possible for this.
Ad blocker interference detected!
Wikia is a free-to-use site that makes money from advertising. We have a modified experience for viewers using ad blockers

Wikia is not accessible if you've made further modifications. Remove the custom ad blocker rule(s) and the page will load as expected.